Haley Carpentry design, build and install unique, bespoke entertainment units.  No matter how complicated your home entertainment system, we will help you design a unit that will act as a centrepiece or as a subtle, understated piece of furniture.
An entertainment centre is often the heart of the home. After all, this is where friends and families will gather on a regular basis. It therefore makes a great deal of sense that these units should be as outwardly attractive as they are functional. We are also well aware of the fact that the design of these cabinets is often determined by the entertainment system itself. This is why generic or off-of-the-shelf options simply will not do.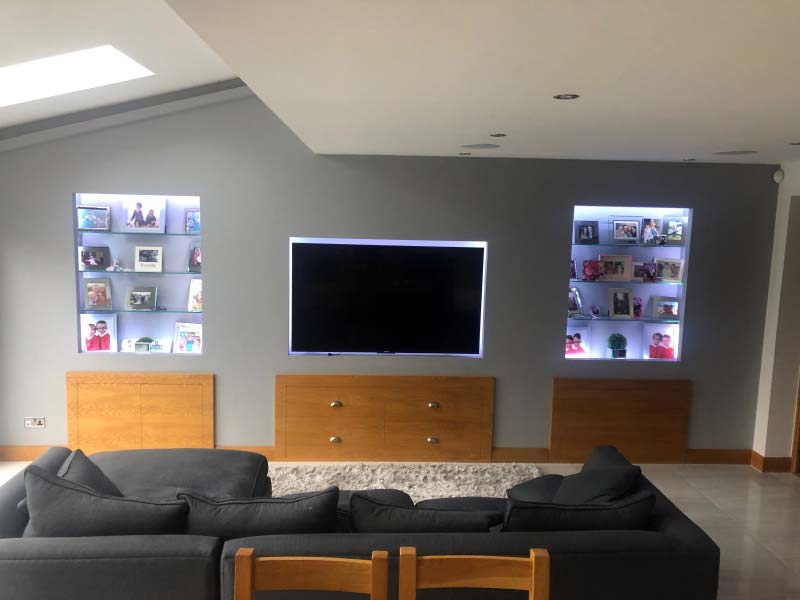 During the initial consultation, our team will determine which options best suit your needs while simultaneously discussing choices such as the type of material and the intended completion time. Once these factors are successfully determined, the actual construction process will begin. When it comes to bespoke and original entertainment cabinets, we are your go-to-source.
We will ensure the different parts and their measurements will suit whatever entertainment system you have whilst offering ample storage space, as required. Your entertainment unit will be designed to hide any leads that would normally stick out and be on show for everyone to see.
Entertainment Cabinets ideal for storing your:
Televisions

Sky or Virgin Boxes

Sound Bars

PlayStation or Xbox

DVD Players